Moving Me To We,
Creating A New World Of Wonder
By Phillip Elton Collins
(with a lot of help from higher realms)
Addictions
Addictions appear to be so wide spread in our world today, especially prescription drugs and alcohol. Any long-standing compulsive behavior habit/pattern/ritual may be called an addiction. Many people do not understand exactly what an addiction is, thus many therapies are not helpful.
An addiction lives inside you as an astral attachment being (quasi-entity) as an energy field (a dark snake-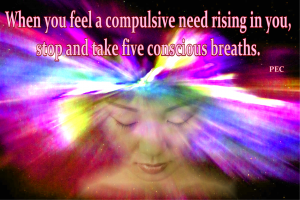 like coil) attached to your emotional/mental bodies that periodically rules your life by creating a craving. By becoming aware of this, when you feel a compulsive need rising in you, stop and take five conscious breaths. This increases your awareness as to what is happening. Feel the compulsive urge within you and know it as described above. Take a few more breaths and know through your free will and choice you can make another choice other than the ones from the past: this is self-empowerment through self-love. If the addiction still overpowers you, don't make it a self-judging problem. Just keep making the breathing exercise a priority. Your awareness will grow to the point that it will be stronger than the addiction. Once you become the observer (present with) of the addiction and stay with that it cannot survive long term. Make sure some of the established forms of addiction therapy do not support other addictions or become an addiction themselves.
Phillip Elton Collins
Co-Founder, The Angel News Network
TheAngelNewsNetwork.com