Separating From Separation Into Oneness
A Divine Discussion From
Dear Beloved Angel News Network Soul Family,
As unprecedented higher realms energies continue to come into our Earthy plane (from above and below), one of the essential aspects of being human is to heal our separation/duality and master the reality of our Oneness.
During our Thursday, March 3, 2016 (4pm Pacific/7pm Eastern) Divine Discussions gathering, Separating From Separation Into Oneness (pdf and mp3 below), we focused on this newly received message from The Council of Archangelic Realms (CAR) via channel Phillip Collins.
Within this message we are once again given vital tools to free ourselves from ourselves. As always, direct access to this higher realm through questions and/or requests for personal messages was granted.
Divine Discussions is offered on a suggested $10.00 love-offering basis; to donate please click on the donate button at our website The Angel News Network.
Our Thursday evening teleconference number is 1-641-715-3670, Access code 565060# or meet live in our classroom at:
Center for Spiritual Living, Fort Lauderdale
1550 NE 26th Street
Wilton Manors, Florida
To replay last week's message simply dial:
1-641-715-3669 and use Access code #565060
The Light of Source Never Fails.
Active Angel Agents
Phillip/Joel/Jeff/SAM
The Angel News Network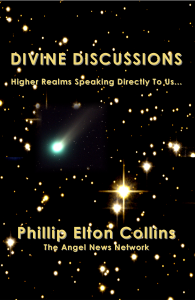 Click Here To Purchase Paperback or E-Books!