Moving Me To We,
Creating A New World Of Wonder
By Phillip Elton Collins
(with a lot of help from higher realms)
Meaning Of Emotions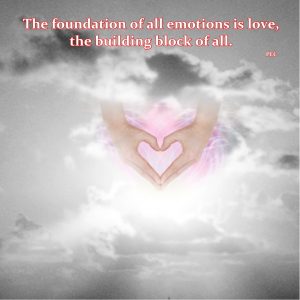 Higher realms often teach that emotions (emoted feelings) created our thoughts. Unconscious assumptions create emotions which in turn generate mind activity which creates our personal reality. Many people do not know what their feelings are or how to express them. Feeling our feelings and releasing them are essential aspects of our healing. Emotions that are not felt are trapped in our cellular memory and cause dis-ease (impeding the flow of energy). It is important that we realize we are not our emotions but that they are something to be felt and released. Emotions have also been called 'divine pathways' to our destination of embracing our divinity of love and oneness. By feeling and following our emotions they lead us to positive or negative locations in our lives. The foundation of all emotions is love, the building block of all; all other emotions are expressions of love or the absence of love. We are all here to learn to love. Planet Earth is called the Lover-versity.
Many of us who have experienced painful emotions' and thoughts have gone on to awaken spiritually, often more so than those without these experiences; proving we are not here to be punished but to awaken.
Phillip Elton Collins
Co-Founder, The Angel News Network
Download PDF HERE!